Hyundai "Reimagine Everything at Taste of Soul Los Angeles" Contest
At Hyundai, better is at the heart of everything we do. That's why we want to know how you are helping to make Los Angeles a better place for everyone. Show us how and you could be eligible to win a 2018 Model Year Hyundai Kona Limited including applicable sales tax, registration fees, title fees, and license fees (hereinafter, the "Prize" or "Vehicle").
To be eligible, you must submit a video no longer than two minutes showing how you are making Los Angeles a better place, along with a short description of your video. All entries must be submitted by 11:59pm PT on November 5, 2018.  Any video longer than two (2) minutes or shorter than ninety (90) seconds will be ineligible and will not be considered. Incomplete submissions and those that do not comply with the Video Requirements set forth below will not be eligible for the Contest.
Together, Reimagining the Future
Moving the World Together
Check out last year's 2017 "Hyundai Better LA" contest winners!
Taste of Soul Los Angeles
Dubbed Los Angeles' largest street festival, The Taste of Soul Family Festival takes place annually in October and features a taste of all things "soulful" including food from local restaurants, live entertainment, displays from local artists, and exhibits from local businesses and organizations.
Founded by Danny Bakewell Sr., now in its 12th year, the Taste of Soul is presented by the Los Angeles Sentinel Newspaper and benefiting the South L.A. non-profit organizations Mothers in Action and the Brotherhood Crusade, the Taste of Soul Los Angeles is a free family-friendly event hosted in partnership with the City of Los Angeles, Radio Free 102.3 KJLH, and 94.7 The Wave. The Taste of Soul takes place in the 8th and 10th council districts represented by Council members Bernard Parks Sr. and Herb Wesson Jr.
The Taste of Soul is still free and takes place on Crenshaw Boulevard between Stocker Boulevard and Rodeo Road in Los Angeles and attracts over 350,000 attendees.
Follow the Taste of Soul on Twitter @tasteofsoulla and by using the hashtag #tasteofsoul.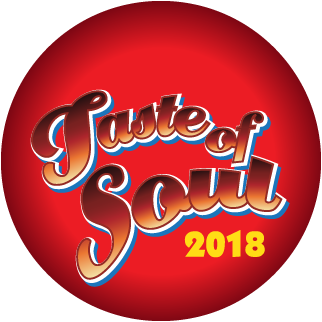 10:00 am – 12 pm StarQuest Competition
12:30 pm DJ B-Hen
12:40 pm Roland Martin Host
12:50 pm Crenshaw Drumline
1:10 pm Teddy Riley
2:20 pm DJ B-Hen / Roland Margin
3:45 pm Chanté Moore
3:15 pm Roland Martin / DJ B-Hen
3:00 pm Ginuwine
4:30 pm Roland Martin / DJ B-Hen
4:50 pm Hyundai sponsor remarks / Hyundai Reimagine Everything Grant winners
5:45 pm Roland Martin / DJ B-Hen
6:00 pm Kurtis Blow
6:45 pm Roland Martin – wrap
6:45 – 7:00 pm DJ B-Hen closing